mark salners
Studio Director, RYT 200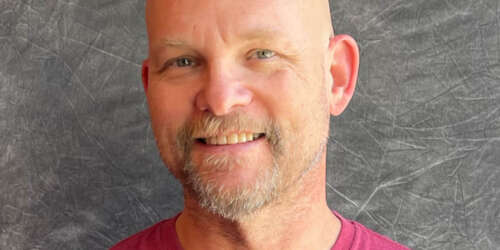 Mark's yoga journey began just after he turned 30, and it was a rocky start. After years of limited physical activity, his wife dragged him to a class; he found yoga was hard and he didn't always have a positive attitude. But, as in his life, he set small goals at first: he just wanted to touch his toes. What Mark quickly learned, though, was that yoga was not only about stretching, it was about the breath. The feeling he got after class when he could focus on his breathing and nothing else was extremely calming In a way he'd never before experienced.
So he reassessed his goal and focused on keeping control of his breath. The resulting calm was life changing but he still complained because everything else was still so challenging. He continued to set one goal at a time: to put his hands on the floor, then to find control in chaturanga, then to make it through an entire class with no unintentional breaks. After years of classes spent more in childs pose than flowing, he now knows it's okay to have strong days and some not so strong; they all help you find your way to your breath, and that's really the whole the point. 
As turns out, his small goals over time have really paid off. 20 years of yoga have flown by and, despite having taken thousands of classes, trainings, and, having trained as a teacher himself, he still feels he has so much to learn; that is why they call it a Practice! Mark is so excited to share his journey with our community at Just Yoga!
Mark lives in Corona with his wife, Lisa, who, after becoming a yoga teacher and, later, studio owner, no longer has to drag him to classes.