Welcome to Just Yoga!
Whether you're new to yoga, new to Just Yoga, or have been here a million times, we want to make sure that you're totally comfortable in our space. If you have a question that is not answered here, please drop us a line and ask!
How Should I Prepare?
download our custom app and create your account (advance registration required)
come in 15 minutes prior to class start time
wear comfortable, fitted clothing that you can move easily in
bring a towel
if you don't have a yoga mat, don't worry, we offer a choice of high quality Manduka ProLite mats or super sticky B Yoga mats for a $2 rental/cleaning charge
drink plenty of water before and after class
plan not to eat for about 1-1/2 hours before class begins
please do not wear scented lotion, perfume, or cologne

Cell phones and shoes are not allowed in the asana (practice) room
Which Class is Right for Me?
To learn the basics of the postures and the practice, try Level 1 and Level 1-2 classes.
If you have a little trouble getting up and down, or have an injury, bad knees, back pain, or if you just don't want to move around quite so much, try Gentle, Yin, and Restorative classes.
I've practiced before, but not at Just Yoga
If you've tried yoga in the past, whether at a gym, another studio, or at home, Level 1-2 is always a great place to start again.
If you've practiced a more vigorous style, or if you sometimes like to be offered harder options, consider starting with an All Levels or Community class.
I'm looking for a challenge, and I want to sweat!
I'm under stress and I think yoga will help
We spend our lives rushing from place to place, fighting traffic, juggling work and home life. We need to slow down! For total stillness, try a Restorative, Yin Yoga, or Meditation class. If you want to move a little (and leave feeling like you just had a massage!), try a Gentle class.
I'm Pregnant.  Which class should I take?
The best class for you depends on a few things. Have you tried yoga before? How far along are you? How active were you prior to pregnancy?
Generally, for moms-to-be who are new to yoga, we recommend starting with Gentle, Level 1, Yin Yoga, and Restorative.
If you had an active yoga practice prior to your pregnancy, you can continue with what you were doing, depending on your energy level, and with a few basic adjustments.
Each of our instructors is very well-versed in the modifications to keep you comfortable and safe. Just make sure to let the teacher know at the beginning of class, since everyone looks very different at different stages, and the teacher may not realize that you're expecting.
Kassandra Aguilar

This is place is beyond wonderful! I received such a warm and generous welcome from everyone. The instructors Stephanie, Lisa, and Damien are so amazing and hard core!!! They will accommodate you in accordance to your physical and fitness needs. Wether you are in town for a couple of days,... read more or you are finding a permanent yoga place, this is the studio you seek. This place reserves all the stars the sky can hold.

1/11/2017

Kim Beck

5 stars, 5 stars, 5 stars! I would rate higher if I could! First time for my husband and I trying yoga and luckily we came to the right place. The staff and instructors are fantastic! Made us feel very comfortable. Couple of months into it and will continue as... read more long as they have open doors!

5/11/2016
Sharon G.

I wont lie to you, I've been putting off writing this review because I wanted this little gem all for myself. It's a bit odd to think that a business can have a personality but when I say that the doors to this place welcome you, I truly mean it.... read more The owners and instructors here have created a community based on practicing yoga but it is so much more than that.

Each instructor is concerned about what is best for you and your body. Their registration form will ask if you've had any prior injuries but they'd prefer to talk to you about it. Not to judge you for your injuries but to help you through them and to make sure the poses won't make your injuries worse. For example, I've had some lower back problems and the instructors have given me some tips and alternatives to some poses that usually agitate my back.

I've been to other studios that have a pretentious feel to them but you won't feel that here. People of all shapes, sizes, ages, and experience levels come here to enjoy this judgment-free zone and I wouldn't have it any other way.

Their pricing it pretty straight forward and they offer discounted packages. The community class is my favorite class right now but that's just because it is $5 per class, which is great on a tight budget!

5/05/2016

Kristina N.

I love this studio! I've been practicing for years and haven't found teachers as knowledgeable, friendly, or kind as the ones at Just Yoga. They've truly transformed my practice. I'm currently taking the 250hr teacher training and it's been a wonderful journey. Can't say enough great things about them! Highly... read more recommend.

4/22/2017

C L.

Always wanting to try yoga I took advantage of the 2 week new student special for $25 and immediately became hooked. That was 4 months ago and now I make time in my schedule for my yoga practice.  The teachers are  friendly, caring, and knowledgable and the studio is clean,... read more simple and relaxing.   The schedule of classes works with my work schedule making it conveniant to take a class almost every day if I choose to.  Thank you Lisa and Damien for opening Just Yoga!

2/01/2013

Courtney P.

As much as I love yoga I haven't taken very many classes. Tonight I took a class at Just Yoga and LOVED IT! I've taken classes where everyone was super serious and the instructors were intimidating but this place is not like that at all. Lisa was my instructor. She... read more was very funny and super approachable. The class kicked my butt (I took Level 1 & 2) but I felt so good once it was over. The studio is beautiful and the location is easy to get in and out of. I would recommend Just Yoga to anyone that is looking for a really laid-back yoga studio to practice in with instructors that are friendly and knowledgeable.

11/16/2010

Theresa A.

I really love what the gentle yoga class does for my back.  In gentle yoga, Damien, the teacher, likes to say it is gentle on your joints but that doesn't mean it is easy.  She is really helpful in adjusting poses to suit what works for your body and working... read more around any injuries you have.

I've liked all the instructors I've had. Sandra and Lisa are great too.

 I had never been to a yoga studio before I started coming here.  I had only been to yoga at the local gym. What a difference!

I'm always recommending Just Yoga to my friends and family. Even buying them gift cards.  And it is quite reasonable if you buy class packages.

7/27/2013

Sharon K.

I have been going Just Yoga for 11 months now, at the beginning I was like probably learn some  basic postures never thought I could do the headstand. Yes!!! I mean "Headstand"!! so happy and so proud of myself too and all thanks to the wonderful teacher Damien, Jeni, Lisa,... read more Michelle, and Sara.
我愛你們!!!!

6/13/2017

Taylorr E.

I did my first hot yoga class here and I loved it. All the ladies in the class were very friendly and encouraging and the instruction, Lisa, introduced herself to the newbies personally and asked if we had injuries or questions. I expected some OC women who are rude and... read more selfish but everyone here was very real and down to earth.
I'd definitely recommend trying a community class first if you're new to yoga and want a good studio to go to.

3/05/2015
follow us! like us!
tag us!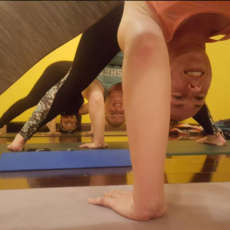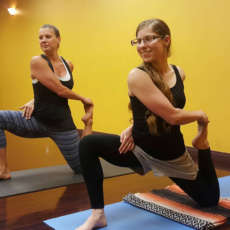 Life is Busy
let us help with that
With the Just Yoga custom app, you can avoid the line at the desk, sign in to classes, reserve space in workshops, manage your membership or package and much MORE!
corona studio
163 W Ontario Ave #102, Corona
wildomar studio
36330 Hidden Springs Rd Ste B, Wildomar
corona studio
163 W Ontario Ave #102, Corona
36330 Hidden Springs Rd Ste B, Wildomar