Memberships
and Package Options
Memberships
Memberships are the most cost-effective option. Bronze, Silver, and Gold Memberships
renew automatically every 30 days.
No contract. Two (2) month commitment is required. Upgrade at any time.
Downgrade, suspend, or cancel with 10 days written notice.
more fine print
Auto-Renewing Memberships (Bronze, Silver, and Gold) are valid for all regularly scheduled classes, including Community Classes. Workshops and Special Events are not included.
These Memberships automatically renew on the same day each month.  If you need to place your Membership on hold, downgrade, or cancel, we require 10 days advanced notice in writing.
With fewer than 10 days written notice, we cannot guarantee that your package will be downgraded or cancelled before your next automatic payment processes.
New Students
This is a great way to try everything!
Explore a wide variety of classes and
teachers to find your favorites.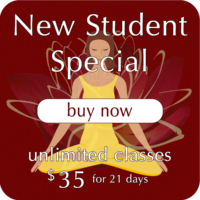 the fine print
Our New Student Special includes 21 consecutive days of unlimited classes. This series may not be suspended or re-started. The series begins on the date of the first class attended after purchase. This series is limited to one per student.
Class Packages
Packages of 10, 20, 40, and 50, classes are valid for 12 months and are shareable and transferable.
Non-renewing class packages expire 12 months after the date of purchase.
These classes are shareable, transferable, and are not refundable.
Expired class packages may be extended for up to 180 days for an
additional $20 per 90-day extension.
Community Classes ($5) are not included in these packages, and are sold separately.
Book Your
Private Yoga Party
Treat yourself or someone you love.  We're available for your birthday and any special occasion.   Reserve a private session for you and up to 15 of your friends, for your family, or even for yourself.