Erika Rodriguez
Instructor, RYT 200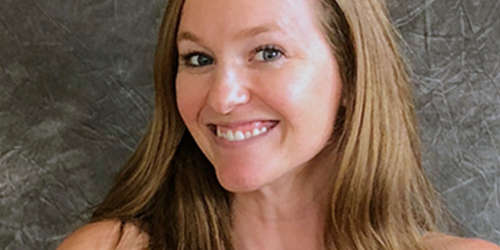 Erika is a self-taught yogi, having begun her home practice in 2014. Soon after that, she became pregnant with her third baby and continued to practice throughout her pregnancy, modifying postures when needed. After her baby was born she was on and off her mat, and found herself drifting away from all physical activity. Being a stay at home mom of three kids for several years started to take its toll and Erika discovered she was suffering from anxiety and depression. That's when a friend recommended yoga to help her, not only to get up and get moving again, but for the mental healing effects that yoga brings. Ever since, Erika has been hooked and continued a consistent home practice. Her anxiety and depression slowly faded away.
Eager to learn more, she decided to take her first studio yoga class in 2016 at Just Yoga in Corona with Damien. She was skeptical at first, but it soon became love at first class. The atmosphere was the perfect combination of quieting the mind, moving the body, being able to laugh and have a great time. Though she had never thought about teaching yoga, after that class something clicked and she knew what she was meant to do. All of her life she has had a love for helping others, nature (especially the ocean), and being active. So yoga was the perfect attribute to everything she is passionate about. Shortly after, Erika enrolled in the 200-hour yoga teacher training program with Just Yoga.
Erika teaches vinyasa yoga and especially loves inversions, especially handstands. She enjoys smiling and hopes to create an atmosphere where there is laughter and her students feel at home, making sure her students know her class is a place of non-judgment where safety always comes first.